The trend of expensive fridges has started years back ago. It shows your status to the world. World's first most expensive fridge was manufactures by Meneghini Arredamenti La Cambusa. It was launched in 2012 with the high price of 41,000 dollars. Now Dolce&Gabbana x SMEG fridge limited edition fridge has breaker the oldest price and launched it with whooping cost of 50,000 dollars. It's product name is SmegFAB28. It is a type of ventilated fridge and it is good for the price you will pay.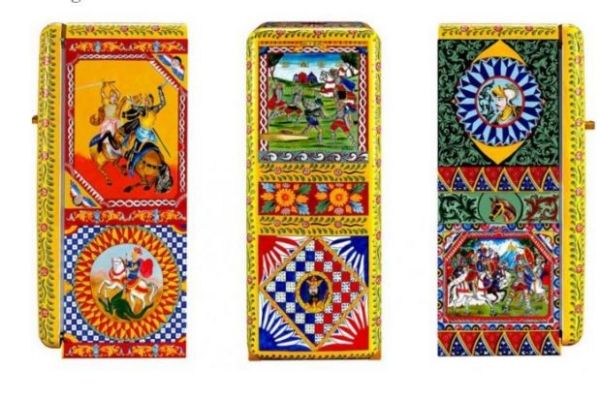 Specifications. Good or just exaggerating?
It is 27.5 inch (wide), 23.6 inch (deep) and 57.5 inch (tall). This stats balance the cost of this fridge. But, many experts is giving less attention due the 2012s 41,000 dollar fridge. This does not have coffee maker, ice maker, temprature controller and a flat screen TV which was included in Meneghini one.
But, what drives people towards it is it's 1950s design with very sensational paint work on it. It is an artistic piece with single door. It was painted by the world's most respected painters such as Sebastiano Patania and Tiziana Nicosia. They were working on it for 3 months. Then it goes to Italy for assembly process.
It's manufacturers have designed it by keeping in mind the Sicilian tradition and the aesthetics. They were combined so beautifully which gives this fridge an antique and ancient structure with modern art.
"When you think of Sicily, you think of the colors of the Carretto, the folklore, the history, and the traditions that are linked to this island. The Sicilian cart in the past has benefited the work of farmers and traders, so naturally it has become a piece of art and history."said Stefano Gabbana, one half of the famous fashion duo
Dolce&Gabbana.
The Dolce&Gabbana have mixed their legacy with the canvas of the modern painter. It is appreciated worldwide by many authorities and many famous artistic personality. It will give a straight idea about Sicilian tradition. "in some areas there is a predominant romantic aesthetics, in others more natural. Some of them feature horses while other ones have Tricarica, the three-legged symbol of Sicily, as main feature and so on," said Domenico Dolce.
In total, there are only 100 units of this fridges in the whole world. In US there was 9 fridge which was baught here. According to the officials at Smeg USA , the half of 100 units is sold out till now while 2 of the 9 fridges sold in USA was sold as of press date.
This fridge is not for the ordinary persons as it costs suggests. Only an art collector can afford this huge amount for a fridge. Since the condition of this collabration has given them critical success they have decided to launch a small appliances collection which includes a four-slice toaster, Americano coffee machine, hand blender, and free standing kitchen set and many more. Overall it worth its price. A better option for an art collector to invest money.…
Description of a 50,000 dollar fridge. Why is it so expensive?

Continue Reading